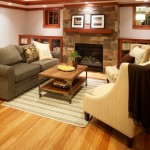 With so many flooring options on the market today, it's becoming increasingly difficult for homeowners to select which material is right for their home. And, considering the cost of installing new flooring, not to mention how long you'll be living with it, it's important to make the right decision.
Bamboo has become a popular flooring choice in the last few years with many homeowners. If you haven't given bamboo much thought, here are 6 reasons why you should:
Durability
Bamboo is one of the most durable flooring options you can choose. Certain types of bamboo have received hardness ratings higher than hardwoods. Bamboo is also very resilient which means it can take a knocking but not look like it did. Drop a bowl and the bowl will experience damage but the bamboo flooring will bounce back. Impacts rarely leave any dents in bamboo. This durability and resiliency makes it a great flooring choice for high traffic areas of your home like hallways and living rooms.
Bamboo is Stylish
Bamboo has wonderful patterns that can be combined in numerous ways to create a beautiful and unique floor that goes with just about any décor. Many people who select hardwood floors do so because they love the feeling of warmth hardwood lends to any room. Bamboo also offers your room a level of warmth and coziness.
Bamboo is Eco-Friendly
Bamboo is one of the most environmentally friendly flooring options on the market today. This is because it is made from a highly renewable source. Although many put bamboo in the exact same category as hardwood, it is not sourced from trees, but rather a grass that can renew itself in 5-7 years. Compare that to some hardwood trees that take 30-100 years to renew themselves and you can see why bamboo is the greener option. The sourcing of bamboo is normally heavily monitored so you can feel good when purchasing.
Health Friendly
Bamboo flooring has very low levels of chemical emissions, especially when compared to flooring options like linoleum. Before buying bamboo flooring, make sure you're dealing with reputable and responsible companies who use very low and safe amounts of VOCs.
Numerous Color Options
Natural bamboo is a light blonde color that will go with any style. Carbonized bamboo is a rich caramel color which is a result of a longer boiling process that causes the remaining starches in the bamboo to caramelize. Beyond these two natural colors, bamboo can be stained an infinite variety of colors, just like hardwood, so you can be sure to match your floors with any décor.
Easy to Clean and Maintain
is incredibly easy to clean and maintain. They resist stains naturally and can be cleaned with a soft-bristled broom or dry mop. When messes occur, a damp cloth is all it takes to wipe it up, and you never have to use any harsh cleaning chemicals. This makes bamboo the truly greenest option out there.
If you have any questions about whether bamboo is the right flooring option in your home, get in touch with us. We'd be more than happy to assist you with your flooring decisions.
---
---
Categories: Flooring, Green Living, Interior Decorating